res o nant
Verantwortlicher Autor: M.Nowitzki/ Mischa Kuball | Berlin, 16.07.2018, 12:10 Uhr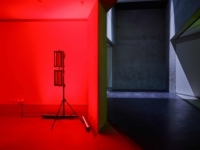 GDN -
The Jewish Museum Berlin ist exhibiting res·o·nant – a walk-through light and sound installation by the Düsseldorf conceptual artist Mischa Kuball. Kuball created the installation specially for the new exhibition space on the lower ground floor of the Libeskind building.
1o Jahre Artistik
Verantwortlicher Autor: Dieter Theisen | Bonn-Beuel, 10.07.2018, 12:44 Uhr
GDN -
Dem Alltag entfliehen und sich bei atemberaubender Artistik in kunstvolle Fantasiewelten entführen lassen: das neue "Varietéspektakel", im Pantheon an der Siegburger Str. 42 in Bonn-Beuel, lädt mit 13 Vorstellungen im August zu einem Atemberaubenden Programm ein.
| | |
| --- | --- |
| | Michael Warren |
| | Kurt U. Heldmann |
| | Dieter Theisen |
| | Ekkehard Boldt |
| | Mario Graß |
This will be shown to users with no Flash or Javascript.